Every week we have a team of volunteers helping out in the shop, through this page you can find out how you can help and the benefits of giving your time.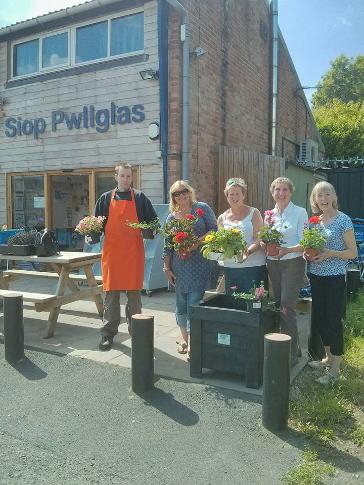 We're very lucky to have a great group of people who are willing to give their time every week to help run and keep the shop going.
Generally most of the volunteers work 2 hours in a week, the shifts avaliable to volunteer in the week are 8-10, 10-12, 12-2, 2-4, 4-6.
Here are the shop opening hours;
Monday - Friday: 08.00 - 18.00
Saturday: 09.00 - 16.00
Sunday ( and Bank Holidays): 09.00 - 12.00
Working in the shop is a great opportunity to meet the people who live in the community and to do something interesting and helpful in your day. It's always enjoyable to talk to customers when they are in the shop and it's a great way to socialize without having to go out far.
If you would be interested in volunteering please talk to one of the staff members in the shop, we'll take your details and arrange a shift for you to work in the week or the weekend.
Interested in volunteering? You can download a copy of our volunteering form here!
Each year during National Volunteer Week in June we celebrate and thank our volunteers. For 2016 we arranged a coach trip to the Snowdonia Orchard and Vineyard as a special treat for our fabulous volunteers. It was a beautiful sunny day and our hosts treated us to a tour, tasting and scrumptious meal!
Come Christmas our fabulous volunteers can think of nothing else other than the "Siop P Xmas works do." Last Christmas we had a super traditional Christmas menu followed by a hotly contested quiz! Where will we go this year? Join our team of fabulous volunteers and find out!